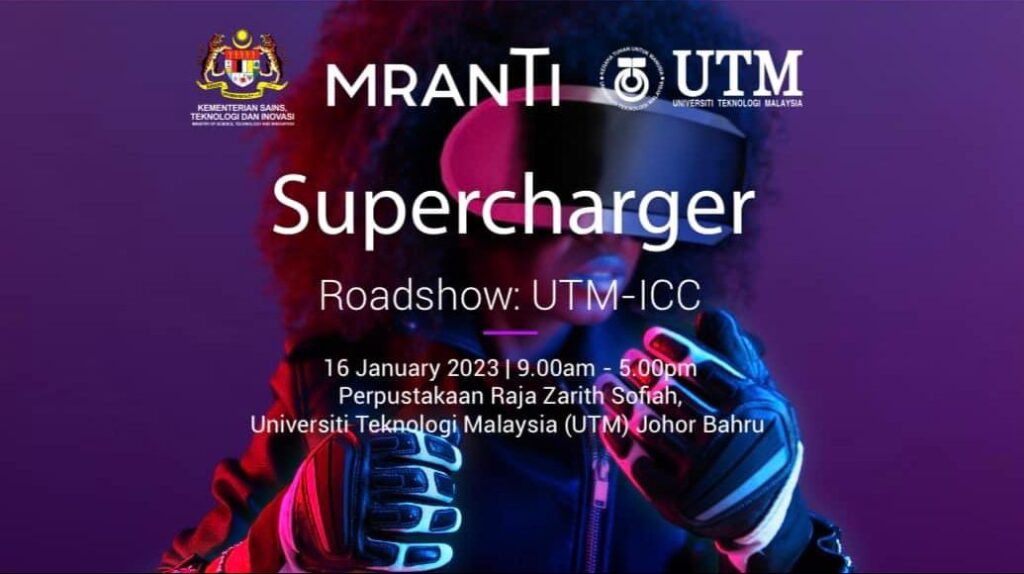 𝐈𝐧𝐯𝐢𝐭𝐚𝐭𝐢𝐨𝐧 𝐭𝐨 𝐯𝐢𝐬𝐢𝐭 𝐌𝐑𝐀𝐍𝐓𝐈 𝐒𝐮𝐩𝐞𝐫𝐜𝐡𝐚𝐫𝐠𝐞𝐫 𝐑𝐨𝐚𝐝𝐬𝐡𝐨𝐰: 𝐔𝐓𝐌-𝐈𝐂𝐂
Assalamualaikum wbt and Good day to all,
The Supercharger Roadshow: UTM-ICC will take place on:
Date: 16th January 2023 (Monday)
Time: 9.00 am to 5.00 pm
Venue: Raja Zarith Sofiah Library, UTM Johor Bahru, Johor
(Google maps: https://goo.gl/maps/QXVRU9HsKx2rtv6j7)
This event is a one-day programme organised by MRANTI & UTM-ICC, designed to bring together commercialisation players and allow them to interact and engage with MRANTI as well as the R&D and C&I ecosystems in Johor.
The event allows university spin-off companies, researchers, corporations, and government agencies to learn, identify issues and challenges, and identify opportunities to accelerate their commercialisation journey.
The roadshow aims to provide a platform to connect and accelerate commercialisation through various interventions such as exhibitions, seminars, pitching class, consultation session etc.
For further information and details of the programme, please find here: https://drive.google.com/…/1e37Q9ibA0McPimkQhyG…/view…
Please register your attendance at: https://bit.ly/superchargerjohor
Thank you